April went by so fast, didn't it? The weeks just seemed to disappear as the weather got a little warmer. In Vegas, the weather has been a little unpredictable. We had a beautiful warm weekend and then, the wind came tumbling through. It's currently very windy and chilly. But hey, I'm not complaining. I love chilly weather!
As always, welcoming the new month leads to remembering the last. Here, on Books Forget Me Knot, I showcase all my favorites from the previous month (April). I like sharing my favorite books, music, shows, movies, ect.
So let's get started, shall we?
FAVORITE BOOK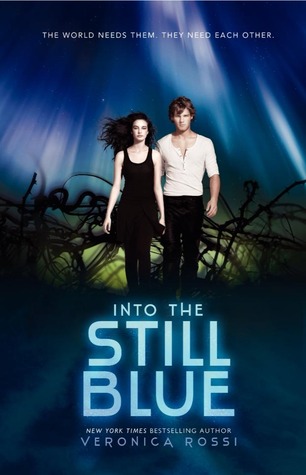 Into The Still Blue by Veronica Rossi. This book. THIS BOOK TOOK ME OVER A MONTH TO FINISH. I don't think I've ever mentioned how I really don't like finishing series'. I tend to read them very slowly, savoring every single detail. I wasn't capable of quickly reading and I didn't want to. I knew that it was going to be the last time I read about these extraordinary characters and the world that Rossi beautifully created. I won't say much about the book in general because I did write a full no-spoiler review of this book. But, if you have not read this series I urge you to do so. It's FANTASTIC.
FAVORITE MUSIC
Do you watch Reign? This song may sound a little familiar if so. My absolute favorite song in April was Scotland by The Lumineers. I love that it's dark and upbeat with great musical acoustics.
FAVORITE SHOW
The 100
Set 97 years after a nuclear war has destroyed civilization, when a spaceship housing humanity's lone survivors sends 100 juvenile delinquents back to Earth in hopes of possibly re-populating the planet. — IMDB
Okay. So I did not think I would like this show as much as I love it. I would categorize it as post-apocalyptic and sci-fi because of the world building and plot. I absolutely love the plot of the show, how earth was destroyed by a nuclear war almost 100 years ago. And now, these 100 juvenile criminals are sent down to the ground to see if it's survivable.
What I like about the show is how…believable and realistic it is. How kids (who are criminals) act with one another, wanting to be free of the tyranny from The Ark, and how that shapes how they want to run their group on Earth. The dynamics between the characters are also interesting. As the show progresses, relationships are built and tested. I like how we don't get to see just one side of them. For example, I really did not like Octavia the first episode, but I have come to really like her.
I say give this a chance and to not listen to harsh critics. Here's the trailer for The 100 to see if you'd be even remotely interested 🙂
FAVORITE BEAUTY PRODUCT
Crabtree & Evelyn Pomegranate Lipgloss
I really love how easy and applicable this lipgloss is. And it absolutely smells delicious! I can't help licking my lips whenever I wear it. I know, I know. That may be a TMI. It's a little expensive, but affordable if you by 3 lipglosses for $15. 1 lipgloss cost $9. I think it's a bargain to buy 3, but that's just me! Also, the deal may be different now than the time I did purchase it.
FAVORITE APP
Frozen Freefall
I discovered this game on my trip to WonderCon. It was a really great distraction and passed the time quickly while I waited in lines for screenings, signings, ect. The game is also pretty darn addictive! It's a Frozen bejeweled version. I'm currently on level 29 and STUCK. But I cannot stop myself from opening the app and trying to beat the level!
FAVORITE VIDEO GAME
Super Mario 64
Yes. I have crossed over to the dark side. Okay, so not really! When I was a kid I loved playing video games. The really old, good kind. Like Mario 64, Donkey Kong, Sonic, Zelda, ect. Recently, I bought a Nintendo 3DS and bought Super Mario 64. I became addicted instantly! The game took me about 3 weeks to beat because I don't spend too many hours of the day playing. I mostly play in bed before I go to sleep and in the morning to wake me up.
The game definitely brought back nostalgia. I really loved collecting stars and beating bosses' as well as the big ol' bad boss himself, Bowser. The game is easy on a gamer level, but it's also really fun to play! Well, for me anyways.
Now, I'm on a mission to find another game to play on my DS. I would kindly take any and all suggestions!
||
So that's it! I didn't have a lot of favorites in April, but what I did enjoy I absolutely loved! I'm trying to get a lot more reading done this month as school does end in a week! (Yes. FREEDOM). I also have dozens and dozens of books on my shelf that I need to organize and read. I'm thinking of going on a Book Buying Ban to minimize my book buying, and also give myself a chance to read all the books on my TBR shelf.
Lastly, I hope May is good to me and you. It's my birthday in exactly six days. I'm going to finally be 21 babeh! But, I probably won't do any stereotypical 21 things like go out and get drunk because it is finals week for me. But I will celebrate! Not necessarily with drinking though. That is so overrated.
Hope everyone is having a wonderful day!
With love always,