Hello my dears! Another month gone as summer slowly dwindles to nothing more than a dream. I feel like such a failure because I have not accomplished much during my summer break. I haven't been reading as much as I'd like, though I have been writing every day. I've also been trying to learn Russian, but that isn't going very well. I may try to learn German and reinforce my Spanish knowledge. I've also been having my own small adventures. Last weekend I went to Utah and scaled the mountains of Zion. Kevin and I conquered the hardest trail which is Angel's Landing (more like Hell's Landing, if you ask me). It was really nice to just get away from the city and enjoy nature.
Anyways, before I ramble way too much, to welcome the new month I will share my favorites from the previous month (July). My favorites include books, music, shows, movies, ect. July was a pretty busy month and it was the most memorable so far this summer.
FAVORITE BOOK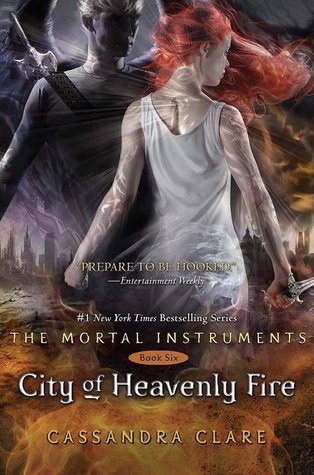 City of Heavenly Fire by Cassandra Clare. The conclusion to The Mortal Instrument series left me blissfully happy. Tears were shed from both happiness and heartbreak. But mostly happiness. I loved every minute of my adventure reading this final book. It was beautifully written as well as near perfection. I cannot wait to read more of Cassandra Clare in the years to come! She is definitely one of my top 10 favorite authors. I hope to write an in depth review of this book soon because I still have so many feels buried within my soul.
FAVORITE MUSIC
I think Ed Sheeran is the bane of my existence. He is just…incredible. One of these days I want to see him perform live.
FAVORITE MOVIE
First, I would like to say that I have never seen a Planet of the Apes movie, not even the one with James Franco. I have been wanting to watch the adaption with Franco in it but never had the chance. So, I sat in the theater with an open mind, not really knowing what it will be about, nor the previous plot line.
With that in mind I really liked the film. I found it realistic (to a point). I found it intriguing and scientifically correct to how the apes communicated with one another using sign language. My theory (and I don't know if this was mentioned in the film or is a known fact) is that Cesar is the one who taught the apes sign language as he was taught as a baby.
There was a point in the film where I got annoyed though because an event occurred, which caused something else to happen…and I just found it extremely illogical. I understand that it spurred the movie forward, but….*le sigh*
Overall, I found it great though. And if my prediction is correct, there will be another adaptation in the future. It seems like there will be war.
Dun. Dun. Dunnnnn.
FAVORITE APP
Vinted
I've turned my obsession from buying books to buying clothes off of Vinted. It's an app where you can upload new or used clothes and sell them. So far, I"ve made about 5 purchases within the last two months and have had a great experience with the seller's as well as with the Vinted community. What I also really enjoy about the app is that I can heart what I like or will potentially want to buy in the future.
The pay option is also easy to navigate and makes life a 100% easier. It's great for first time buyers who are not sure how to use the app (like myself in the beginning).
Lastly, I love that you can be a person's follower. If they are a seller, I love being able to know what they have uploaded. And if I like it and have money I will readily buy it right then and there!
This app is amazing! If you like thrift shopping, you'll love this app! Some of the items are even new items that are bought and never worn. Most items are in great mint condition. Whoever invented this app is a genius. It's just great and I love it!
FAVORITE BEAUTY PRODUCT
White Nail Polish
It doesn't matter from what brand the White Nail Polish comes from, but I have worn the color more often this month than any other time this year. I love how simplistic it looks. It's the perfect color for summer. And there are so many patterns (or not, if you want to keep it simple) that you can do with it.
I'm not that creative, so I keep it simply white with a dash of pink glitter coated on top. Isn't that isn't summery, then I don't know what is!
FAVORITE PLACE
Zion National Park
In the middle of July, Kevin and I took a trip up to Utah, spending the weekend there. It was absolutely beautiful! I've never been to Utah and my mind was completely enthralled by all the lovely forestry. Our mission was to climb the rigorous trails of MT. Zion. And boy, did we climb!
Some of the trails were excruciating. And leave it to my boyfriend to pick the hardest one of all called Angel's Landing. The view…it was all worth it just for the beautiful view that overlooked the cavern.
I want to do it all over again. Soon.
||
What were some of your favorites during the month of July? Let me know in the comments below! Or if you've blogged about it, don't be shy; leave a link behind! 🙂
August is promising to be a good month! So far, I have already finished three books! That's already more than I have ever done in a month this year. (I know, it's severely lacking). The bad thing is that I am now behind on my book reviews! But I must not fret. I will post them. I have to, to feel accomplished. Plus, I miss writing a well, honest-to-goodness review.
Hope your August goes well lovelies!
Signing off for now,