Hi lovelies! I am so happy to live in a word where there are Octobers. Why? Well, it's a beautiful month here in Vegas. The weather gets slightly cooler. It's still hot (like in the high 80's and low 90's) but it cool weather for the people who reside here. I even notice the cool air in the mornings when I go to work! It's heaven on earth. I am so excited for sweater weather! I am ready to buy lots of cute sweaters on Vinted and enjoy pumpkin spice lattes! They are my absolute favorite.
As always, my monthly favorites post consist of my favorite things for the previous month (September) as I welcome in the new month. Let's start with my favorite subject….BOOKS!
Favorite Book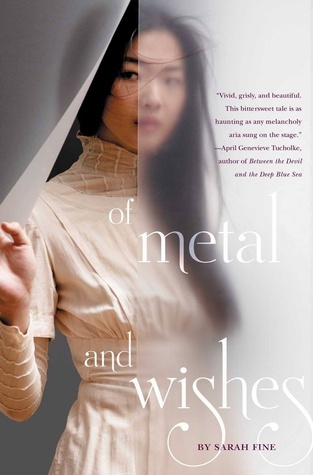 Of Metal and Wishes by Sarah Fine. I absolutely adored this novel! When I found out that it was a retelling of Phantom of the Opera, I had to get it. I told Anna about it from The Writer Diaries, and she got it for me within a week! My thoughts when finishing the novel were:
A beloved classic comes to life in this beautiful modern retelling. Sarah Fine weaves a story both new and old, filling the pages with parallels of social constructs during a time of repression, and captivating us with a love story unlike any other. I loved this to pieces and cannot wait for the second installment!
As you can see, I really loved this book. What I also love is the cover! And the cover for the sequel is gorgeous! I would definitely recommend this book to fans of modern retellings 🙂
Favorite Music
So I may be a little too late for this summer hit, but hey…I just recently started listening to Habits (Stay High) by Tove Lo and it's pretty darn amazing! I can't stop humming it when I'm at work.
Favorite Show
Doctor Who
…and it's BACK on the air! If you have been with me from the beginning, you will know that I am a Whovian at heart. Last month, began the new season of DW with Peter Capaldi. Now, I didn't know how I would feel about him as I adored Matt Smith  (He will forever be my favorite doctor. Don't judge me) but he surprised me with his performance. Capaldi's doctor is truly mad and it is best depicted in the first episode of the season.
Anyways, as River Song says "No Spoilers," I truly do not want to spoil you! If you haven't seen this British Drama I highly recommend it. It's full of witty banter, charisma, and loads of wibbly wobbly timey wimey stuff.
Favorite App
Duolingo
I absolutely love how easy and user friendly this language learning app is to use. I am currently learning Spanish (to better my grammatical and spelling skills) and German. I was learning Russian using Rosetta Stone but alas, it was too complicated. I may give Russian another go using this app.
The thing that I love about this app is how easy it is to learn. I love how new words are highlighted and given meaning, allowing the user to actually learn the word and commit it to memory. I also love the reciting aspect, where the computer says the sentence and then the user repeats it with a close-to-right pronunciation. Lastly, I love the pictures that make it very easy to translate from English to Spanish or to whatever language you are learning.
Favorite Beauty Product
Wet n Wild Wild Shine Nail Color
My absolute favorite thing about these nail polishes are how extremely affordable they are. The nail polishes only cost 99 cents. A bargain! I know what you may be thinking, cheap nail polishes are not very good. But that is not true here. The opacity of the nail polish is light so I do two coats (like most polishes) and the brushes compliment the nails very well. Honestly, this polish works better than my expensive nail polishes.
If you don't like wasting too much money on nail polishes, then this brand is the one for you! Trust me. You'll be surprised.
||
That is all for September's monthly favorites! What did you like in the month of September? Let know down in the comments below! Don't be shy 🙂
I hope October treats us all well. I'm super stoked for Halloween. I will be staying in and watching scary movies!
Take care,