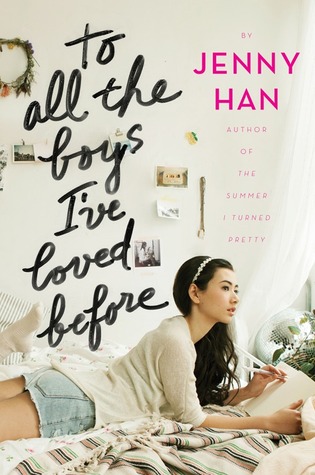 Author: Jenny Han
Publisher: Simon & Schuster
Release date: April 15, 2014
Purchase from: Amazon | Barnes & Noble | Book Depository
SYNOPSIS
To All the Boys I've Loved Before is the story of Lara Jean, who has never openly admitted her crushes, but instead wrote each boy a letter about how she felt, sealed it, and hid it in a box under her bed. But one day Lara Jean discovers that somehow her secret box of letters has been mailed, causing all her crushes from her past to confront her about the letters: her first kiss, the boy from summer camp, even her sister's ex-boyfriend, Josh. As she learns to deal with her past loves face to face, Lara Jean discovers that something good may come out of these letters after all. — Goodreads

NO WORRIES. THERE WILL BE NO SPOILERS UP AHEAD. ENJOY!
Lara Jean got herself in quite a bit of a pickle. You see, as a coping mechanism, Lara Jean wrote letters to all the boys she ever loved (five of them, to be exact) and stored them in a hat box her mother gave her. Then, one day Lara Jean discovers her hat box gone and the letters she wrote mailed. Now, Lara Jean has to learn to deal with the consequences of her letters. Meanwhile, Lara Jean will find love in the unlikeliest of places.
First, I would love to highlight the gorgeous cover. I love the typography on the cover! It actually looks like a real marker was used. I also love how a diverse model was used as Lara Jean, the protagonist is half Korean (I believe. Please correct me if I'm wrong). Lastly, I love the contrast of colors. The hot pink of the author's name, the black of the typography, and the different shades of white. It's beautiful #bookporn .
As for the novel it's self – well, it was beautifully written. I have never read a Jenny Han novel, but after this I will be sure to add all her previous works to my TBR list. There something simple and straight forward about her writing. Han does so much with so little. She paints a wonderful story with authentic characters and situations. I also love how Jenny Han writes about diverse characters! Like I mentioned about, Lara Jean is half-Korean and half-American. We need more authors like Jenny Han who explore a protagonist's diversity rather than abandoning it.
Another thing I thoroughly enjoyed are the family dynamics in this novel. I love how there is an active parent (her father)  who works long hours as a doctor and still has time for his girls. I also love the strong bond that Lara Jean has with her sisters Margot and Kitty. Family dynamics like in this book are hard to come by. They are practically non existent in YA genres.
Lara Jean is fiercely loyal, funny, and a hopeless romantic. She is also a strong and responsible individual despite her age. I quite liked her and found that I could relate to her. When I was younger I may have written some love letters to boys I thought I loved. But thank the gods they were never mailed. That would have been quite an ordeal. Lara Jean handles the consequences gracefully, well, as gracefully as she can when her past loves resurface. One of them being her sister's ex-boyfriend.
While I was quite unsure of how I would like the sister loves sister's ex-boyfriend trope, Han writes it very well. There is guilt and uncertainty and betrayal as there should be, but it is all unexpected and plays out differently than what I had imagined. Then, there is the boy who Lara Jean pretends to go out with and well, he turns out to be the guy I liked most. He is actually very swoon-worthy at times and others he is so stubborn that you want to hit him for being a boy. It was the kind of swoon-worthy moments that made you feel all warm and fuzzy inside.
I never thought I would adore a book quite like this one. When I first picked it up, I was just looking for a fluffy contemporary read and found so much more in To All The Boys I've Loved Before. It was beautifully written, filled with a charming and funny protagonist, and secondary characters that supported the novel to it's fullest. In case you haven't noticed, this book was magnificent and you should definitely check it out for yourself.
I will patiently be awaiting the sequel and will try not to squeal of pure happiness once it hits shelves.
This novel rightfully earns…5 happy cupcakes!