The sun is shining, the weather is colder. Tea and hot chocolate are the go to drinks for these long winter months, while sweaters and scarfs offer a semblance of warmth from the cold. I cannot believe that it's December already! The year has unbelievably passed me by. As I've mentioned before, this is my favorite time of the year because of the weather. I love the cold climate because it's a nice change from the warmer weather we have here for most of the year.
Before I get ahead of myself, (I seriously could talk about winter for days) as always, my monthly favorites consist of my favorite things from the previous month while welcoming in the new month.
So let's get this thing started!
Favorite Book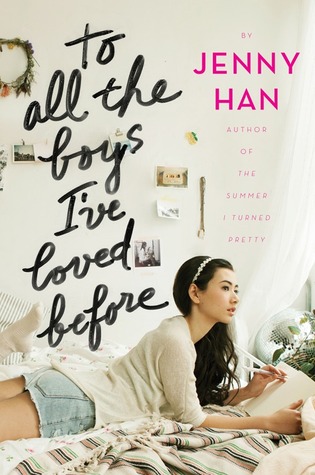 To All The Boys I've Loved by Jenny Han. I absolutely adored this. It was simple yet, mesmerizing. I read it within 24 hours on my days off from work. When a book is good it devours me. And that is exactly what Han's story did to me. I don't want to go into too much detail as I did review this novel, but if you're looking for an easy to read and compelling contemporary novel I suggest this one without any remorse.
P.S. Isn't the cover gorgeous?
Favorite Music
With the release of Taylor Swift's new album 1989 this month I hurriedly went and bought myself a copy. It's a new sound as she transitions from country to pop successfully, in my opinion. With that said my favorite song from her album is Style.
Unfortunately, due to copyright issues (which I totally understand!) I could not find a lyrics video for this song.
My second favorite song by her is actually a cover by Tyler Ward and his friends. I actually like this version of the song better than the original, which I did not like when it was released a few months ago. But Tyler and friends made me love this song!
Favorite Movie(s)
Interstellar
I had no interest in seeing this movie whatsoever. Why? Simply for the fact that I hadn't really heard about it nor watched the trailer. But then, Kevin's friends from work said that it was amazing. Well, that got his attention. It was so good that there was a small amount of crying, but mostly awe.
Later, Kevin deemed it "It's like Titanic in space," which it is to a degree. It's a team of explorers sent to space in order to find a potentially habitable planet. You see, in the movie set decades into the future, the world is dying. Elements of space, science, and time travel come together to create a beautifully and imaginative story about seeking a new home. Humans were born on earth, but they were never meant to be restricted solely to it. That is one of the underlining messages to the movie.
Matthew McConaughey and Anne Hathaway are brilliant! It was probably one of their best performances to date. I also loved the setting as I am a fan of dystopians but then again, it fits properly in the sci-fi fiction category. It was also really interesting to learn after the movie that there was an incredible amount of research in space, planets, and worm holes to make it believable.
On another note, the score was beautifully written. The scenes perfectly coincide with the music filling you with hope, dread, suspense…your emotions will be moved by the music. Also, some of the scenes are just…
They are pleasantly aesthetic to the eye and mind.
By the end of the movie, I was in tears. I actually was in tears a few times throughout the film. It pulls at your heartstrings and makes you believe in the impossible. Interstellar is filled with action, suspense, love, and adventure. I urge you to check this out because it was AH-MAZING!
Mockingjay Part 1
I am biased when it comes to The Hunger Games so it shouldn't be a surprise that this movie also falls into my favorites for the month.
I was amazed and a little disappointed all at the same time. The movie was great! I liked how the director followed the book as closely as possible just like in Catching Fire. I also love the deep emotional rawness from the actors. The CGI and effects were on point again. With an incredible amount of funding, the movie was fully equipped with jarring war machines and explosions.
My only complain is that the movie felt small. Small in the sense that it was not fully stuffed. I know that Mockingjay is a book where a lot happens, which is why it is being cut into two movies, but I also felt like this part was set up, much like the book is.
I honestly would have loved to sit through a four hour movie just to see it all play out in front of my eyes. Now, I have to be tortured for another year to see the conclusion. I'm afraid and am preparing my heart for the heartache that is surely to come.
If you're a fan, you'll love it like I did. But at the same time it left me empty and wanting MOAR.
Favorite Beauty Product
City Color Matte Lipstick
I am in love with this line of lipsticks that I received in my Ipsy bag. I've never tried a matte lipstick and found that applying lip balm made it easier to apply. It also hydrates your lips if you do it this way. The color is also very pigmented. One or two coats on your lips does wonders!
Personally, I love nude and light shades of pinks, which is the color I received (Cappuccino, to be exact!). But I am looking at more shades to buy in the future because this line is amazing! It is also affordable. A matte lipstick from City Color is roughly $5.
Favorite App
Doodle Jump
Doodle Jump is no stranger to apps. But it is rather new to me as I have never played it before. I downloaded the Batman version to this and love the cute animation and simplistic nature to the game.
All you do is jump up a series of blocks, careful and mindful to not fall and bump into bad guys. At the end, there is a boss to defeat. Defeat the boss and slew of crystals fall for you to collect. By collecting crystals you can upgrade powers. Also, your Doodle can level. As you level a series of Batman costumes are unlocked. You can wear whichever one you currently like. My favorite is 70's Batman. My Doodle wears a blue cape with the traditional costume underneath.
||
I apologize for the lengthy post! I did not expect to write so much nor have many favorites this month. But alas, I cannot take it back. I hope November was good to you all! What did your favorites consist of? Let me know in the comments down below! Or if you have your own monthly favorites post, leave me a link, I'd love to check it out! 🙂
I am hoping to beat my Goodreads Reading Challenge of reading 25 books this year. I've currently read 22 so I need 3 more! I'm hoping to exceed my goal as I just ordered a heap of books from Book Outlet. They are having a sale where their books are 30% off on top of the great pricing they already have. You should totally check it out my lovely bookworms! Sale ends Monday, December 1.
That is it for today! Have a wonderful day or night depending on when you're reading this! Lots of love!
xx