Hello loves! I'm going to post my monthly favorites post a few days early this month as it is New Years Eve in two days! Ah! I cannot believe this! All month I've been telling people at work how the weeks just blur together. I cannot distinguish between last Monday and two days ago. It's catastrophic.
Currently, it is 39 degrees outside. THAT IS COLD. FREEZING COLD. It actually might snow here in Vegas! I cannot believe it. We only get snow up on Mt. Charleston. It's going to be super exciting and  if it does snow I'll try not to die of hypothermia 😛
So here we go…
Favorite Book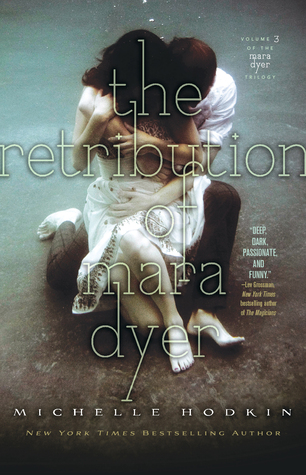 The Retribution of Mara Dyer by Michelle Hodkin. My thoughts at the end of the novel:
A captivating read, The Retribution of Mara Dyer, is a wonderful conclusion to a uniquely woven trilogy. Words cannot express how this novel was a brilliant piece of art. I loved the characters, as dark and flawed as they may be, they are extraordinary. I cried, I laughed, I chewed my lip with suspense. Michelle Hodkin wove an intricately beautiful story with dark themes and scientific theories that will live on today. Tomorrow. Forever. This is a must read for all YA fans.
My mission for these last few days is to write a very long book review for this because IT. IS. LIFE. This trilogy is one I will forever recommend. Plus, it has the beauty that is NOAH SHAW. You all need to meet this brooding, sarcastic, loving boy. You'll fall for him just as I have.
Favorite Music
I've been getting in touch with  my cultural roots as of late. It's all thanks in part to Kevin because he loves the Spanish culture. We listen to Spanish radio stations in the car and sometimes sing to songs. One of those songs is El Verdadero Amor Perdona by Mana. This translate to "True Love Forgives."
Fun Fact: Mana is one of my favorite Spanish lternative-rock bands.
Favorite Show
The Carrie Diaries
With the ending of binge watching Criminal Minds for the last few months and finally finishing all 9 season on Netflix, I had to choose another show to watch. So, I went with The Carrie Diaries. I wanted something light and easy to watch without thinking too much. I had watched the first episode of this show on the tele when it was airing on the CW.
I honestly really like this. I love how effortless Anna Sophia Robbs portrays the iconic character that is Carrie Bradshaw. I love how this show is about friendships, relationships, self-discovery, and a coming of age story. What I also love is the 80's music. Can someone gift me the soundtrack to the show? Pleaseeee. I have a new fascination with 80's music. It's fun and dancey and full of iconic pop stars like Madonna.
I also LOVE the fashion. I would have loved to live in the 80's. My hair would have been widely acceptable in society and I could wear big poofy dresses with chunky colorful necklaces. It would have been a dream.
It's depressing that the show was canceled. I'm working on the second season now and knowing that this is all, well, it's S.A.D. I like where the show is going. I have recently been introduced to Samantha…and if the show hadn't been canceled we would have met Miranda.
What leaves me wondering is how Carrie left her original group of pals and gained Samantha, Miranda, and Charlotte.
Lastly, the show really makes me want to read The Carrie Diaries. It's been idly sitting on my shelf for a few months.
Favorite Beauty Product
Fresh Sugar Petal
I mentioned this product to my co-worker earlier this month. It's a pretty expensive line of lipsticks from Sephora. I only wished to try it, but I never thought she would get me it for Christmas. It was a surprise and an amazing gift. I love how moisturizing the lipstick is and how it has SPF 15. Another plus is it's high pigmentation. And the smell! It smells just like fresh roses. It's heavenly.
It retails for 22.50. My goal in life is to collect all the shades I want in this line. It is so worth the money. I have never loved a lipstick as I love this.
Favorite Video Game
Legend of Zelda: Ocarina of Time
I remember playing Zelda when I was a kid. I don't remember much of the game, but I remember that Zelda used to be a small block and now he is 2D and quite a handsome lad.
Kevin loves all things Zelda, which is how I came to know and love this game. I played it a day or two after Thanksgiving and beat the entirety of the game in 3 weeks. It was a super fun adventure that made me terrified and sad. The ending especially is sad. I burst into tears. Darn the Japanese.
Kevin says I play dangerously. He is more cautious. I like just going for the gold. I have fairies (to replenish my heart health) so why not just jump into my death. I get to be revived immediately after!
I played on my 3DS which is beauty at it's finest. I recommend playing this game for gamers who love puzzle games and games that have a purpose, a goal.
Favorite App
Quiz Up
This app has every topic imaginable in the world. You pick a topic and test your knowledge based on that topic. They even have a Young Adult category and the questions are accurate! Whoever came up with this app is a bloody brilliant! Kudos for those who work constantly on the app, coming up with new questions weekly (even sooner than that!).
My favorite topics are YA (obviously), Disney Characters, Frozen, Spanish: Easy, and Historical Events.
I also love how the app is easy to navigate. You choose the topic, choose to Play Now and the app will direct you to an opponent. Easy peasy. You can also chat with people you have quizzed with. It's easily one of my favorite apps of 2014.
||
I hope you all had a lovely December and a happy holiday season! December was steady. Winter break began in the second week of the month, leaving me to concentrate on work and do lots and lots of reading. I am going to relish January just the same. I'm very excited about the New Year. How about you? 😀
What were your favorite things in December? I'd love to hear them! ❤
With love always,