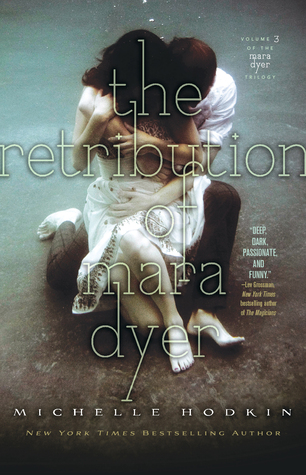 Author: Michelle Hodkin
Publisher: Simon & Schuster Books for Young Readers
Release date: November 4, 2014
Purchase from Amazon | Barnes & Noble | Book Depository
SYNOPSIS
Mara Dyer wants to believe there's more to the lies she's been told.

There is.
She doesn't stop to think about where her quest for the truth might lead.

She should.
She never had to imagine how far she would go for vengeance.

She will now.
Loyalties are betrayed, guilt and innocence tangle, and fate and chance collide in this shocking conclusion to Mara Dyer's story.
Retribution has arrived.
DEFINITE SPOILERS UP AHEAD LOVELIES. DON'T SAY I DIDN'T WARN YOU.
*It's very difficult to review a book when it's the final in the series. So if you haven't read the first two be very mindful that there will most likely be spoilers up ahead. With that said…let's delve into what is the retribution of Mara Dyer.*
I have been waiting for TWO YEARS for this book. And it definitely did not disappoint. I had expectations, but none that revolved around theories. I didn't know what would happen. I just wanted a good conclusion to the series and I got just that.
First, I'd like to acknowledge the beauty that is this cover. It's bloody gorgeous and I applaud the cover designer for keeping the underwater theme for all three books. Bravo to you sir – or ma'am.
Okay. Now. Let's get down to business.
My thoughts at the end of the novel were a jumbled mess because I was squealing like a mad whale. I also finished the book at work, which didn't make it any easier to contain my FEELS. I read this last installment in a matter of 3 days. I stayed up late, I read at work, I read on the bus. I read at every possible spare minute I had. It was hard to put the book down. If I didn't have work I would have finished it in 24 hours tops.
I loved the characterization of Mara. I like how she's mad and is lost and confused. She's definitely evolved from the girl we met at the beginning of her story. She was a lot spunkier and quick witted. But as the story unravels, she begins to – in a sense – lose herself, her old self. It's not a bad thing. Not all. I actually like how the events change her. If they didn't she wouldn't be an authentic character.
At the same time, she does not lose that fire and wittiness we've come to love.
What I also really enjoyed was the exploration of Jamie and Stella's character in this last installment. Jamie and Stella are with Mara for a good portion of the book. The former is with her through the end. I liked how they all got a chance to be themselves and use their abilities in search for the answers to why they have these superhero powers.
Never would I have imagined that this book would have turned into part sci-fi, especially when it concerns their gifts. It was clever and a definite twist to the story. I loved how genetics and mutations were what made Mara, Noah, Stella and Jamie different. I also like how Michelle incorporated PTSD, mental illnesses like schizophrenia and dual personality, and suicide into the story, giving it reason why no medical personal ever found an abnormality in Mara, Noah, Stella, and Jamie. This discovery also means that there may be dozens of other people with powers.
Then, there was Noah and how I had to wait practically the entire book for him to show up! I was so unsure after that major cliffhanger in Evolution. I didn't know if he was dead…but Mara was sure that he was alive or else she'd know. And I hoped he was alive. The only thing I wish would be more Noah. There will never be enough Noah for the world.
Even though, Noah's appearance was short lived it fit well into the book. It goes without saying that I loved all the chapters that Noah was in, especially his POV. Yes, people! He has his own POV! And it was magic. Him and Mara were bloody magic! The last few chapters were where I squealed the most.
This last installment deals with a lot of dark themes. Murder being one of them and the most important pertaining to the novel (there is also the abuse of medical drugs in the beginning). I don't justify Mara's mindset that it's okay to murder someone or that they deserve it. I also don't agree with her inability to feel guilty. But in her situation it was acceptable. She didn't kill people just for the sake of killing them. The people she murdered were people that did her harm or were doing harm to others. I also understand why she didn't feel an overwhelming feeling of guilt for having blood on her hands. Her ability it's who she is and she finally accepts it. She isn't willing to hide nor is she willing to murder because it's fun.
I see her as a dark angel, striking those evildoers with an iron fist. She's like Batman but with superpowers.
The Before chapters were also revealed to have a purpose. It drove me positively mad in Evolution not knowing what they were and who they were about. My first assumption was that it was Mara's past life…but it turned out to be someone I never would have thought. Kudos to Michelle for keeping us on our toes!
All in all, The Retribution of Mara Dyer, is a wonderful and captivating conclusion to a uniquely woven trilogy. I loved the characters, as dark and flawed as they may be, they are extraordinary. I cried, I laughed, I chewed my lip with suspense. Michelle Hodkin wove an intricately beautiful story with dark themes and scientific theories that will live on today. Tomorrow. Forever. This is a must read for all YA fans.
P.S. If you decided to skip all the way to the end…here is the trailer for the first book The Unbecoming of Mara Dyer.