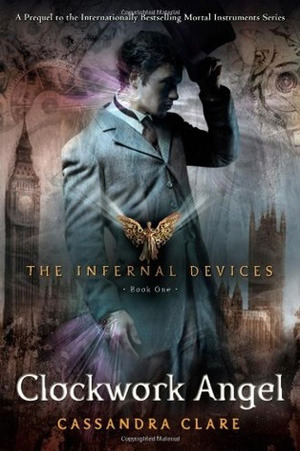 Author: Cassandra Clare
Publisher: Simon & Schuster
Release date: August 31, 2010
Purchase from Amazon | Barnes & Noble | Book Depository
SYNOPSIS
In a time when Shadowhunters are barely winning the fight against the forces of darkness, one battle will change the course of history forever. Welcome to the Infernal Devices trilogy, a stunning and dangerous prequel to the New York Times bestselling Mortal Instruments series.
The year is 1878. Tessa Gray descends into London's dark supernatural underworld in search of her missing brother. She soon discovers that her only allies are the demon-slaying Shadowhunters—including Will and Jem, the mysterious boys she is attracted to. Soon they find themselves up against the Pandemonium Club, a secret organization of vampires, demons, warlocks, and humans. Equipped with a magical army of unstoppable clockwork creatures, the Club is out to rule the British Empire, and only Tessa and her allies can stop them… — Goodreads
WHEN I First Read
I first read this in September 2011. It's nearly been 5 years since I first started this series that took me worlds away. I read this after I had picked up City of Bones and LOVED it! I remember pre-ordering it at the library and waiting months after the release to get my hands on a copy.
WHAT I Remember
Tessa Gray arrives in London and her life takes a turn for the worst. She is held by women who are warlocks when a devilishly handsome boy helps her escape. She then learns that she is not human, but otherwordly. You see, Tessa is a shape changer. She can change into a person and know their thoughts. As far as anyone knows, Tessa is the only one in the world who can do such a thing. Tessa also begins to develop feelings for the boy who saved her. Will Herondale is sarcastic, brooding, and protective. He tries to push everyone away with reason. For he has a secret that he has never told anyone else. In the midst of all this, someone called The Magister wants Tessa and has a clockwork army at his beck and call.
WHY I Wanted To Re-Read
I really wanted to re-read this because it's been ages since I last read this story that caused so many FEELS. This time around I was able to use sticky notes and put them in place where all my favorite scenes and quotes happened. I also needed a Cassandra Clare fix, seeing as her newest novel was pushed back till next year! #DREADFUL
HOW I Felt After Re-Reading
I fell even more in love with the world after I finished the novel for the second time. I liked how I payed particular attention to certain aspects of the book that I never would have the first time around. I also loved the anticipation of knowing what was going to happen and waiting for it! Then, there are the characters who I absolutely adore. I love every single one (except the bad ones). I consider them my friends, you know? These characters are very dear to my heart and I wouldn't want anything horrible to happen to them. As you can tell, I am emotionally invested. I love the world Cassie has created and I am looking forward to all that she has in store with this world and new characters I'm sure to love.
WOULD I Re-Read Again
Absolutely! There is not doubt in my mind that I will reread this book and the series for the rest of my life. It's an amazing world to lose yourself in and after you're done, well, it's like someone just ripped your heart open. It's a good feeling, I guess? Who wants to get their heart ripped open? But, it's quite extraordinary.