Hi lovely people of the interwebs! I am so so so so sorry for my absence! I miss you all! I have no excuses but my own laziness getting the better of me. I'm off university for the summer and I have been watching shows on Netflix and catching up on current episodes on my DVR. I've also read a whopping four novels in May! I was on a roll and so so happy to get back on the reading wagon!
Anyways, you guys know the drill. Every month I highlight my favorite things while welcoming in the new month! I hope you enjoy!
Favorite Book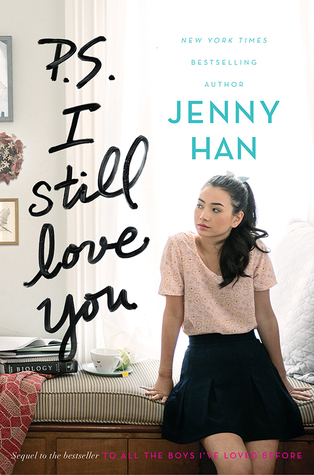 P.S. I Still Love You by Jenny Han. In the sequel to All The Boys I've Loved Before, Han explores what it means to be in love and why it's not always so easy. But that's what makes it worthwhile as Lara Jean discovers this very fact. I love how the sequel continued immediately after the ending of the first one. We didn't miss anything in Lara Jean's life, including those moments with her family and friends. I continue to praise Jenny Han for her outstanding and charming writing and characters you instantly fall in love with.
My thoughts after reading the novel:
I devoured this book like a person needs air to breathe. I related most to Lara Jean in this installment as she tries to navigate the waters of what it means to love someone and the ever present girl in their past. I smiled, I laughed, I even shed a tear here and there. I was filled with unbelievable giddiness and tender notions about first loves. If you have read To All The Boys I've Loved Before and haven't picked up its sequel, it's a MUST. You won't be left disappointed.
Favorite Music
I heard this song on the radio a couple weeks ago and have absolutely fallen in love with the melodic and heartfelt lyrics. The song in question is Stiches by Shawn Mendes and it's a MUST summer listen.
Favorite Show
Salem
I had completely missed the second season of Salem due to school. Then, I go and check out how many episodes there have been so far (8) and binge watch them all. I watched an episode or two a day until I finished what was available last week. And boy oh boy, it is GOOD.
I won't ruin the second season for you if you haven't watched it yet. I do recommend watching this show if you've been debating about it. It's dark, mysterious, and utterly addictive. The lore is positively imaginative. The actors are outstanding and bring life to each character in the town of Salem.
So yes. Go and watch it and then we can talk about it! 😀
Favorite Movie
Avengers: Age of Ultron
I practically begged Kevin to take me to see the new Avenger movie. It is a must to see all Marvel movies, okay? I just love the characters and the intricate story lines. I've never read the comic books so I'm not a "true" fan, but I absolutely enjoy all the movies that Marvel has come out with. Avengers: Age of Ultron did not disappoint! It was filled with action-packed scenes (as always) and mind blowing discoveries. I am so looking forward to the next project Marvel has in store for us!
Psst…I think next project is Captain America: Civil War. Eeeeep!
Favorite Video Game
Destiny
In May, I was (still am) hugely obsessed with Destiny for the PS4. I am not an experienced gamer whatsoever. I've never even actively played a shooting game. I've tried it because my best friend is a gamer and loves FPS (first person shooter) games. But I was never any good at them. And I got way to frustrated to continue. In an effort to expose myself to FPS games, Kevin bought Destiny.
I instantly liked the story line. That is what reeled me in. The second thing I love is the graphics. The intricate details the programmers have made from your players personal shadow to the sound water makes when you splash. It's utterly insane how real it is.The game itself is high quality, one that I've personally never seen in any other game. Note: I haven't seen much of the gaming world so my opinion may be invalid 😛
In Destiny, you are a Guardian, a defender of Earth. A Guardian wields incredible powers and explores the ruins of the solar system, defeating aliens who have taken a strong hold upon the lands that were once Earth's.
At first, I wasn't good at all. I was frustrated and scared (some of the scenes are highly stressful and dark). I raged quit so many times. It wasn't fun…The more I played, the better I got. Kevin noticed that my skills improved each time I picked up the controller. And you know what? I even beat the game's main story line. I did this in two months, I think. It was an accomplishment I was extremely proud of. I mean, I went from being a complete noob to being a person who can actually play and be a good shot.
I'm now working on the Expansion portion of Destiny, which are separate packs that need to be bought in order to continue with the game and beat the main boss, Crota.
These next few levels are difficult. I feel like I've done one dozens of times and still can't manage to beat it even when I have other players on my team. All I know is that I will keep on trudging forward.
Do any of you play Destiny? If so, I would love to hear about your journey! 🙂
Favorite App
Plants vs Zombies
I'm always looking for new gaming apps to play on my phone when I am running errands and have to sit and wait around for appointments. I stumbled across Plants vs Zombies in the app store and tried it out. I really like the game. I mean, it's frustrating to a degree because I feel like some of the levels are virtually impossible. Or maybe I'm just terrible at it.
Anyways, the object of the game is to use plants in order to safeguard your garden from the zombies. The plants have special abilities like shooting, bomerangs, punches, and freezing. I've unlocked several worlds, but have yet to beat any of them. I can never move pass level 14 on each individual world. It's tough!
Favorite Beauty Product
Daisy by Marc Jacobs perfume
For my birthday, my parents surprised me with the Daisy by Marc Jacobs perfume set. It came with a full body of perfume, body lotion, and a roll on-carry on perfume. I absolutely love the sweet but womanly scent. I've never been a perfume kind of girl. I also just use body lotion as my perfume. Now that I have this one, I tend to gravitate to it more and actually wear it on a day to day basis.
The perfume itself is pretty pricy so I would definitely ask for it on birthdays or Christmas 😀
||
So, that is it for my monthly favorites of May! I really hope you all had a wonderful month and that June is bountiful! I plan on doing lots of reading and swimming!
Have monthly favorites? Let me know down in the comments below! I would love to read about it!
With love always,