With the overturn of Proposition 8 has come a multitude of beautifully captured newlywed moments. I woke up this morning to the news that filled me with pure happiness! I loved seeing the overwhelming positive response from my friends and strangers on various social media outlets.
I've been meaning to read more LGBTQ books because I am vastly interested in the awareness of the LGBTQ community. If anyone has any recommendations, please let me know!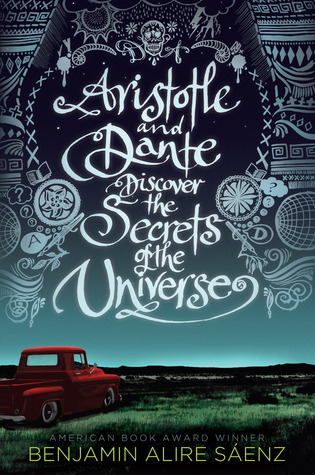 1. Aristotle & Dante Discover the Secrets of the Universe by Benjamin Alire
A lyrical novel about family and friendship from critically acclaimed author Benjamin Alire Sáenz.
Aristotle is an angry teen with a brother in prison. Dante is a know-it-all who has an unusual way of looking at the world. When the two meet at the swimming pool, they seem to have nothing in common. But as the loners start spending time together, they discover that they share a special friendship—the kind that changes lives and lasts a lifetime. And it is through this friendship that Ari and Dante will learn the most important truths about themselves and the kind of people they want to be.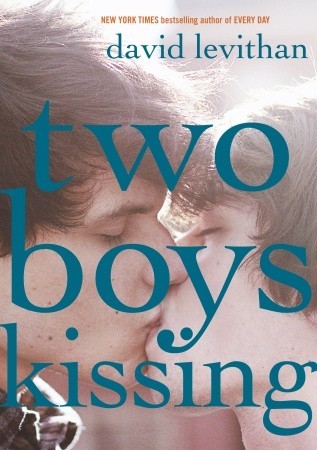 2. Two Boys Kissing by David Leviathin
New York Times  bestselling author David Levithan tells the based-on-true-events story of Harry and Craig, two 17-year-olds who are about to take part in a 32-hour marathon of kissing to set a new Guinness World Record—all of which is narrated by a Greek Chorus of the generation of gay men lost to AIDS.
While the two increasingly dehydrated and sleep-deprived boys are locking lips, they become a focal point in the lives of other teen boys dealing with languishing long-term relationships, coming out, navigating gender identity, and falling deeper into the digital rabbit hole of gay hookup sites—all while the kissing former couple tries to figure out their own feelings for each other
3. Beauty Queens by Libba Bray
When a plane crash strands thirteen teen beauty contestants on a mysterious island, they struggle to survive, to get along with one another, to combat the island's other diabolical occupants, and to learn their dance numbers in case they are rescued in time for the competition.Written by Libba Bray, the hilarious, sensational, Printz Award-winning author of A Great and Terrible Beauty and Going Bovine. The result is a novel that will make you laugh, make you think, and make you never see beauty the same way again.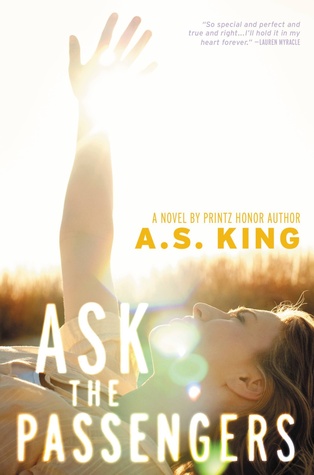 4. Ask the Passengers by A.S. King
Astrid Jones desperately wants to confide in someone, but her mother's pushiness and her father's lack of interest tell her they're the last people she can trust. Instead, Astrid spends hours lying on the backyard picnic table watching airplanes fly overhead. She doesn't know the passengers inside, but they're the only people who won't judge her when she asks them her most personal questions–like what it means that she's falling in love with a girl.
As her secret relationship becomes more intense and her friends demand answers, Astrid has nowhere left to turn. She can't share the truth with anyone except the people at thirty thousand feet, and they don't even know she's there. But little does Astrid know just how much even the tiniest connection will affect these strangers' lives–and her own–for the better.
In this truly original portrayal of a girl struggling to break free of society's definitions, Printz Honor author A.S. King asks readers to question everything–and offers hope to those who will never stop seeking real love.
5. Openly Straight by Bill Konigsberg
The award-winning novel about being out, being proud, and being ready for something else . . . now in paperback.
Rafe is a normal teenager from Boulder, Colorado. He plays soccer. He's won skiing prizes. He likes to write.
And, oh yeah, he's gay. He's been out since 8th grade, and he isn't teased, and he goes to other high schools and talks about tolerance and stuff. And while that's important, all Rafe really wants is to just be a regular guy. Not that GAY guy. To have it be a part of who he is, but not the headline, every single time.
So when he transfers to an all-boys' boarding school in New England, he decides to keep his sexuality a secret — not so much going back in the closet as starting over with a clean slate. But then he sees a classmate break down. He meets a teacher who challenges him to write his story. And most of all, he falls in love with Ben . . . who doesn't even know that love is possible.
This witty, smart, coming-out-again story will appeal to gay and straight kids alike as they watch Rafe navigate feeling different, fitting in, and what it means to be himself.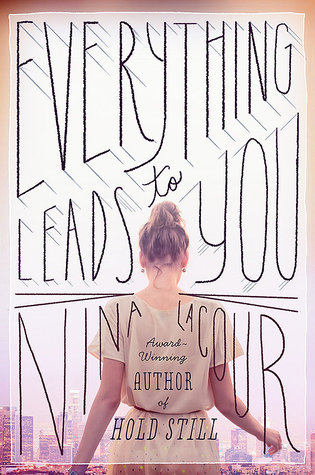 6. Everything Leads to You by Nina LaCour
A wunderkind young set designer, Emi has already started to find her way in the competitive Hollywood film world.
Emi is a film buff and a true romantic, but her real-life relationships are a mess. She has desperately gone back to the same girl too many times to mention. But then a mysterious letter from a silver screen legend leads Emi to Ava. Ava is unlike anyone Emi has ever met. She has a tumultuous, not-so-glamorous past, and lives an unconventional life. She's enigmatic…. She's beautiful. And she is about to expand Emi's understanding of family, acceptance, and true romance.
7. Lies My Girlfriend Told Me by Julie Anne Peters
When Alix's charismatic girlfriend, Swanee, dies from sudden cardiac arrest, Alix is overcome with despair. As she searches Swanee's room for mementos of their relationship, she finds Swanee's cell phone, pinging with dozens of texts sent from a mysterious contact, L.T. The most recent text reads: "Please tell me what I did. Please, Swan. Te amo. I love you."
Shocked and betrayed, Alix learns that Swanee has been leading a double life–secretly dating a girl named Liana the entire time she's been with Alix. Alix texts Liana from Swanee's phone, pretending to be Swanee in order to gather information before finally meeting face-to-face to break the news.
Brought together by Swanee's lies, Alix and Liana become closer than they'd thought possible. But Alix is still hiding the truth from Liana. Alix knows what it feels like to be lied to–but will coming clean to Liana mean losing her, too?
8. Simon Vs the Homo Sapians Agenda by Becky Albertalli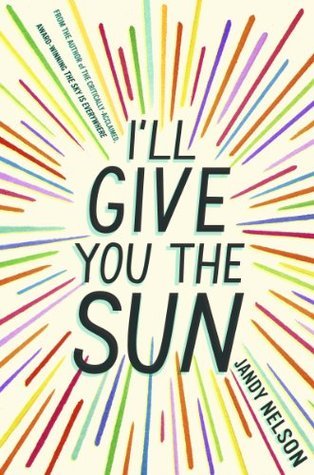 9. I'll Give You the Sun by Jandy Nelson
A brilliant, luminous story of first love, family, loss, and betrayal for fans of John Green, David Levithan, and Rainbow Rowell
Jude and her twin brother, Noah, are incredibly close. At thirteen, isolated Noah draws constantly and is falling in love with the charismatic boy next door, while daredevil Jude cliff-dives and wears red-red lipstick and does the talking for both of them. But three years later, Jude and Noah are barely speaking. Something has happened to wreck the twins in different and dramatic ways . . . until Jude meets a cocky, broken, beautiful boy, as well as someone else—an even more unpredictable new force in her life. The early years are Noah's story to tell. The later years are Jude's. What the twins don't realize is that they each have only half the story, and if they could just find their way back to one another, they'd have a chance to remake their world.
This radiant novel from the acclaimed, award-winning author of The Sky Is Everywhere will leave you breathless and teary and laughing—often all at once.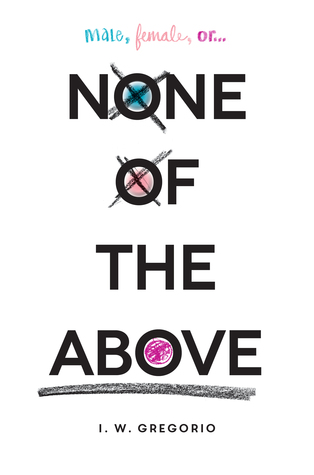 10. None of the Above by I. W. Gregorio
A groundbreaking story about a teenage girl who discovers she was born intersex… and what happens when her secret is revealed to the entire school. Incredibly compelling and sensitively told, None of the Above is a thought-provoking novel that explores what it means to be a boy, a girl, or something in between.
What if everything you knew about yourself changed in an instant?
When Kristin Lattimer is voted homecoming queen, it seems like another piece of her ideal life has fallen into place. She's a champion hurdler with a full scholarship to college and she's madly in love with her boyfriend. In fact, she's decided that she's ready to take things to the next level with him.
But Kristin's first time isn't the perfect moment she's planned—something is very wrong. A visit to the doctor reveals the truth: Kristin is intersex, which means that though she outwardly looks like a girl, she has male chromosomes, not to mention boy "parts."
Dealing with her body is difficult enough, but when her diagnosis is leaked to the whole school, Kristin's entire identity is thrown into question. As her world unravels, can she come to terms with her new self?
||
If you like the synopsis of any of these novels, be sure to add them to your TBR on  Goodreads. Links have been provided in the titles so click away! 🙂