Hello lovelies! It's a beautiful day in Las Vegas with temperatures at 93°F. That is wonderful for July! AND it's the Fourth of July, which makes it even better! I'm hoping for Kevin to take me to Mt. Charleston. I'd love to spend a day out in nature. The temperature at Mt. Charleston is 70°F; a HUGE  difference!
Anyways, you all know the drill 😉 I've got a few NEW favorites and some repeats.
Favorite Book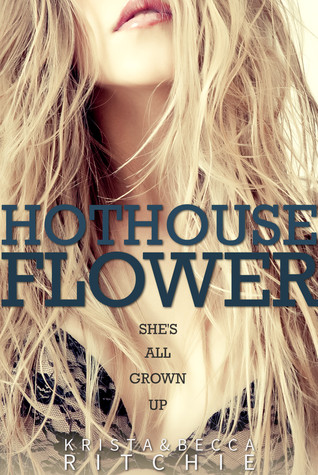 Hothouse Flower by Krista & Becca Richie. This is the fifth installment in the Addicted series. This follows Daisy Calloway and Ryke Meadows, two secondary characters in the shadow of Lily Calloway and Loren Hale. But in this installment, we get to see their story, their growth, and their love – and what pulls them together. I absolutely adore the progression and the character development of these two. They are also characters that I care so much about. They are like my babies…they need protection from the cruel eyes of the world.
My thoughts after reading the novel:
| | |
| --- | --- |
| | I didn't know what I was expecting…whatever it may have been I am now filled with an irrevocable sweetness and unrelenting strength. Ryke and Daisy have been through so much together and their love for one another never strays. I love how they show undying faith for one another and grow to be better versions of themselves. For so long they have denied themselves happiness and to see that they finally embrace that happiness…well, it was anything short of magic. |
Favorite Music
My favorite tune this month is courtesy of Nicky Jam & Enrique Iglesias's new hit El Perdon.
Favorite Show
Orange is the new Black
On June 12, Orange is the new Black streamed season 3 on Netlix. Guess who binged watched? I actually watched the entire season in two days while I was vacationing in California. It was pretty darn AH-MAZING and left me with a load of unanswered questions. But hey, that is OITNB for ya.
What I really liked about this season was the character development of Pennsatucky. Her story resonates deeply with many women (and possibly men) on the standards of sex. If you're up to date with the show, you'll know how Pennsatucky was depicted as a highly religious woman who is violent when things don't go her way. Later, she separates herself from that stigma by actions that occur within the prison. This allows her to also make friends with the unlikeliest of people.
There is also the matter between Alex, Piper, and Stella. There's a whole lot of drama there. Oh! And Piper's character turns…well, not so good.
I don't want to reveal too much as there are spoilers. If you haven't gotten a chance to watch this, I highly recommend it.
P.S. These are just some of favorite highlights from this season.
Favorite Movie
Jurassic World
Okay, so I have only seen one Jurassic Park movie and that was the first one. *runs away* But I was really excited for the commencement of this franchise. The trailer looked fantastic and the main protagonist was played by Chris Pratt.
Going into the theater, I didn't have any expectations. I went and saw it while I stayed in California with my aunt, uncle, and little cousin. I was completely blown away by the adventure, suspense, and amazing CGI effects.
The premise of Jurassic World is quite different than that of Jurassic Park. Jurassic World is a success, the dinosaurs are tamed, the people are safe. Well, that is, until the CEO's want a bigger and scarier dinosaur. From this point on, it pretty much went downhill for everyone (except, for the guy who saved his margaritas!).
I liked the story. I liked the acting. I liked the characters. It was a great movie to watch and enjoy and to see this world brought back to life.
Since I saw this movie, I binged watched the rest of the series and loved it! I wonder if they'll make another Jurassic World – let's just hope they have learned their lessons on bigger and scarier attractions!
Favorite Accessory
While in California, I purchased a LifeProof case for my iPhone 5s and I am completely in love with it! I am accident prone and am always dropping things. As a matter of fact, the first day I got my iPhone, it fell in the toilet :O Yes, I am surprised it has lasted this long with no major defects *knocks on wood* I like how the case protects my phone from glass breakage and water damage. It's also compact. It doesn't make my phone any more bulkier than necessary.
Unfortunately, I bought it at the retail price of $98 at AT&T. Well, it was kind of a half off because of the deal we were making with our contract. On Amazon it is currently $44.60. Not bad at all if you want an awesome phone case!
||
What were some of your June favorites? Let me know in the comments below! ❤