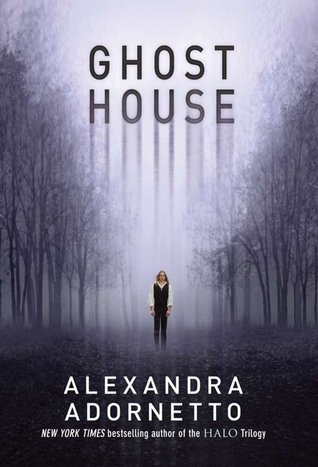 Author: Alexandra Adornetto
Publisher: Harlequin Teen
Release date: August 26, 2014
Pages/Format: 320, Hardcover
Purchase from: Amazon | Barnes & Noble
SYNOPSIS
After the loss of her mother, Chloe Kennedy starts seeing the ghosts that haunted her as a young girl again. Spending time at her grandmother's country estate in the south of England is her chance to get away from her grief and the spirits that haunt her. Until she meets a mysterious stranger…
Alexander Reade is 157 years dead, with secrets darker than the lake surrounding Grange Hall and a lifelike presence that draws Chloe more strongly than any ghost before. But the bond between them awakens the vengeful spirit of Alexander's past love, Isobel. And she will stop at nothing to destroy anyone who threatens to take him from her.
To stop Isobel, Chloe must push her developing abilities to their most dangerous limits, even if it means losing Alex forever… and giving the hungry dead a chance to claim her for their own.
TREAD CAREFULLY POPPETS! SPOILERS MAY LIE AHEAD.
I picked up an ARC of this book at ALA '14.
Ghost House is a page-turning read with moments of suspense and mysterious allure surrounding Grange Hall. I liked the book. I enjoyed it. I found myself wanting to finish so that I could find out what lurked in the next chapter. The end was a cliffhanger and left me wanting more!
With that said, my main dislikes was the pacing and insta-love that reminded me of awfully cheese contemporary novels. There is nothing wrong with the trope but I felt it was misplaced and so so soon If I remember correctly, Chloe instantly feels attracted to Alex within the first night that she meets him. I mean, he's a ghost and she should have reservations about her feelings. If anything, she should find him as a comforting friend – a ghost who is not scary or is malicious. The love aspect just really threw me off…maybe MAYBE if it was done differently I'd have liked the idea, but it was just…too soon with no concrete development. Speaking of development – I wanted a lot more character development surrounding the secondary characters like Rory and Joe (gosh, I wish there was more of him in the book!). I also wanted a female protagonist that wasn't so scared of living, of taking action into her own hands rather than standing on the sidelines for majority of the story.
The story itself was written well, but not great. I know this was a proof copy, but even for a proof I found so many mistakes and scenes that did not properly flow seamlessly. There should have been a lot more page breaks when scenes ended because 60% of it felt like a jumbled mess. I have no idea if the final copy fixed these mistakes.
Lastly, what my absolutely favorite thing about Ghost House was the pacing! I literally could not stop reading because it was GOOD. I liked Chloe's glimpses into the past and the scenes between her and Alex no matter how cheesy and unrealistic they were. I also liked the action that takes place towards the end of the story. It definitely is not dull for a second.
Ghost House was a bit disappointing, especially when I absolutely adored Adornetto's Halo series when I was seventeen. I think there will be a reread for those! The problem with this novel is that I wanted more. I didn't have high expectations, but I was expecting something dazzling and instead, it fell short.

All in all, it was a good read. And that cliffhanger does make me want to read the sequel because HOW IS IT POSSIBLE WHAT HAPPENS. I don't even have a believable theory for that ending!
I'll definitely be checking out the sequel when it hits shelves! 🙂