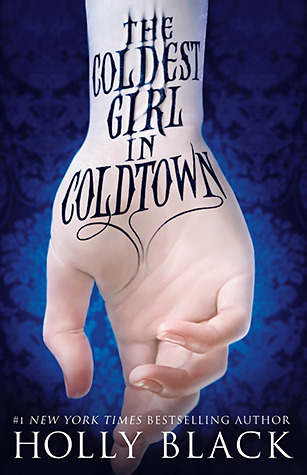 Author: Holly Black
Publisher: Little, Brown Books for Young Readers
Release date: September 3, 2013
Pages/ Format: 419, Hardcover
Purchase from: Amazon | Barnes & Noble
SYNOPSIS
Tana lives in a world where walled cities called Coldtowns exist. In them, quarantined monsters and humans mingle in a decadently bloody mix of predator and prey. The only problem is, once you pass through Coldtown's gates, you can never leave.
One morning, after a perfectly ordinary party, Tana wakes up surrounded by corpses. The only other survivors of this massacre are her exasperatingly endearing ex-boyfriend, infected and on the edge, and a mysterious boy burdened with a terrible secret. Shaken and determined, Tana enters a race against the clock to save the three of them the only way she knows how: by going straight to the wicked, opulent heart of Coldtown itself.

SPOILERS MAY LIE AHEAD DEARIES. YOU HAVE BEEN WARNED.
Holly Black makes vampires frightening alluring and hot!
The Coldest Girl in Coldtown is beautifully frightening and uniquely based on vampire lore that I adore. In Tara's world, vampires are kept locked inside cities called Coldtowns. Within the walls, vampires and humans co-exist in a glamours (if you love the vampire world) or dangerous (if you don't wish to be a part of the vampire world) life. Tara never wanted to be a part of the vampire world, but she finds herself constantly being thrust back into it.
Unfortunately, the morning of the massacre isn't her first time she's come near vampires or an infected human. I won't delve into this aspect of the story as it is a spoilers. It does have to do a lot about who Tana is as a person and why she is vigilant to stay human when she believes she may have been infected at the party.
I love LOVE love Tana's character and development throughout the story. She is strong and does whatever it takes to survive. She makes mistakes – mistakes that could cost her her life, but I love her for it. It makes her a flaw character – a REAL character with fears and uncertainties. She's sarcastic and a little gullible, which makes her a good person. Especially, when she helps the unlikeliest of creatures – a vampire and her ex-boyfriend who had certainly been infected.
Tana is also resourceful and a quick thinker. She doesn't have much time to think through a situation when vampires could be lurking at the next corner.
Then, we have Aiden, Tana's ex-boyfriend, who is a little bit of a pain, but who is also good in his own kind of twisted way. He gives Tana more headaches than her little sister Pearl. Aiden has to fight off his hunger, while Tana has to be wary of him not killing her.
Lastly, we have Gavriel who has secrets not even Tana could ever dream of until they come into realization. Gavriel is an unlikely ally that ends up being one of the only people Tana can trust. He also has his reasons for not killing her which are pretty darn admirable for a vampire.
The characters and story is what really made me love this book. Not only that, but Holly Black, creates a different vampire world where her characters have to either fight for survival or find the glory in becoming part of the world, whether its becoming a vampire or actively being a donor as they dance alongside them through the night. It's just such a brilliant concept, in my opinion. The idea of vampirism is widely accept in Black's world, yet, humans are still wary and keep them locked away in cities with air tight safeguards. Once you are inside a Coldown, you can never get out unless you have a marker – and that costs a lot of money or a bounty (turning in a vampire). The life of a vampire is glamorous as live broadcasting occurs within the Coldtowns that make it fun and exciting. I mean, who wouldn't want to rich and famous?
At the center of all the glam is Tana's story of survival which pushes the story into a crescendo of action-packed scenes. The story of Midnight and Winter also gives insight to those who wish to be part of the vampire world. The entire story is just amazing! Holly Black makes vampires frightening alluring and hot! There's action, mystery, and a little bit of romance that will surely keep you on the edge of your seat! Highly recommend for you to read! 🙂