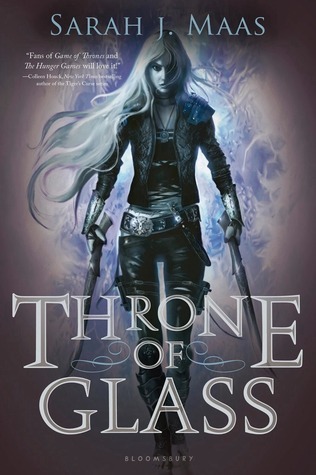 Author: Sarah J. Maas
Publisher: Bloomsbury
Release date: May 7, 2013
Format: Paperback, 403 pages
Purchase from Amazon | Barnes & Noble
SYNOPSIS
In a land without magic, where the king rules with an iron hand, an assassin is summoned to the castle. She comes not to kill the king, but to win her freedom. If she defeats twenty-three killers, thieves, and warriors in a competition, she is released from prison to serve as the king's champion. Her name is Celaena Sardothien.
The Crown Prince will provoke her. The Captain of the Guard will protect her. But something evil dwells in the castle of glass–and it's there to kill. When her competitors start dying one by one, Celaena's fight for freedom becomes a fight for survival, and a desperate quest to root out the evil before it destroys her world.
SPOILERS MAY LIE AHEAD. PROCEED WITH CAUTION DEARIES.
Books that are 3 star ratings are always hard. They neither wow'd me nor displeased me. Throne of Glass fell somewhere in the middle. The premise of the novel is interesting with an eighteen year old girl as the world's best assassin. However, the story falls short with a slow incline of action. It was hard to read it because it ineffectively grasped my attention.
The beginning through the majority of the book was slow. Painfully slow. I wanted action. NEEDED it. When you read the synopsis, the story is about an assassin. And well, I wanted to see some of that badass assassin skills! Instead, we get to see her vulnerable as she had been captured and mistreated as a slave. To earn her freedom, she must compete in the king's game and win to be his personal assassin. It is the the hope of her freedom that leads her to accept his request.
From there the following events are just meh. There is an evil in the castle that must be stopped and Celeana is the only one who can accomplish that feat because…my guess is that she is royalty and has magic in her veins. The training she endures makes her seem…weak. Yes, I get that she was a slave for a year, but she should be stronger within a month. I mean, she IS deemed as the BEST assassin in all of the kingdom.
This isn't entirely bad as we do get to see the girl. I liked Celeana's vulnerabilities. Inside she was just an eighteen year old girl. Circumstances made her who she was.
Then, there is the fact that two men – not one, but TWO men fall in love with her. It's a little unrealistic for me. I liked Chaol and how his romantic interests are portrayed better than Dorian's. #TeamChaol
Because it was so blaringly obvious, the story didn't hold any sort of suspense. It didn't make me want to read the book. Quite the contrary. I could only read a couple of chapters a day. If I tried to read more I got sleepy. Not a good sign. The only good thing I can say is that the short chapters made it extremely easy on me. This book was good in small doses.
I did like the last few chapters of the book, which salvaged the story a little. I liked the action. I loved how I did not know if Celaena would survive and I also liked the mystery on who was behind the dark evil force that threatened the castle.
Even though the first book in these series dragged, I am still curious to see how the second book compares. I've heard and read reviews (mindful of spoilers) that the second is MUCH better. All in all, it was a good read. Perhaps someone who likes fantasy more than I will greatly enjoy this book. As for me, I will consider continuing this series as I do want to know what happens to Celaena and her contract with the king.
For those who read the book, what are your thoughts?