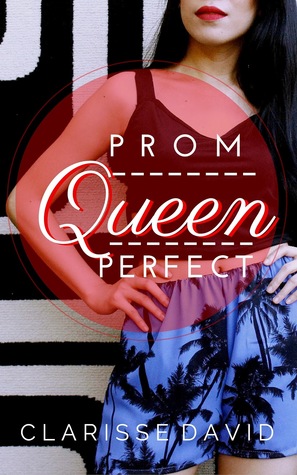 Author: Clarisse Davide
Publisher: self-pub
Release date: July 7, 2016
Format: E-book
Purchase from Amazon
synopsis
Being perfect isn't supposed to be this hard.
Alex dela Cruz has it all. Looks, money, and a killer sense of style.
When the annoyingly gorgeous Adam Cordero calls her selfish, she decides to prove him wrong by transforming Christy Marquez from an invisible misfit into a ruling princess of Asia Pacific Academy. Great hair? Check. Flawless red lipstick? Check. Instant popularity? A slightly too big check.
But now, Alex is on the brink of losing the plastic tiara she's supposed to get as prom queen, her best friend, and her heart to the unlikeliest of candidates. Too bad she isn't letting anything—or anyone—get between her and that tiara.
NO SPOILERS LIE AHEAD. YOU'RE WELCOME.
Prom Queen Perfect was everything I needed in an incredibly sweet and short (to my utter dismay) story about childhood friends turned high school frenemies/sweethearts. I plunged into this novel blindly; not really knowing or expecting how I'd feel. At the end, I felt a WHOLE LOT FOR ALEX AND ADAM.
Alex dela Cruz is that popular girl in high school that everyone hates but wishes to secretly be. She rules Asia Pacific Academy with an iron fist; no one dares to undermine her superiority. Well, except Adam Cordero. Adam is the only one who tells Alex that she is selfish, which sends her into an obsessive spiral of proving him wrong. Her project? Turn Christy Marquez from invisible to popular.
What I liked most about the plot was the fact that yes, it sounds cliche, but it is executed well with stunning metaphors that are unique to Clarisse Davide. The amount of emotion also blew me away as I felt overwhelmingly giddy for Alex in her bouts of clarity over love.
Even though Prom Queen Perfect is abundantly sweet, there are still some issues that Alex overcomes like the estranged bond between her and her mother, what it means to have a best friend, the act of selflessness vs. selfishness, and of course, how it feels to be in love.
I also loved the diverse cast from a diverse author! That was gold and god, soooooo good. I literally devoured this book in one sitting and all I wanted was MOAR.
At 58% I made a note: Slowly falling in love is one of my favorite things to read.
It is. It really is. The relationship between Alex and Adam was everything my little heart desired. I was grinning like the mad Cheshire cat from Alice in Wonderland. It was that SWEET AND JUST ASDFGHJKL.
I also highly enjoyed the relationship between Christy and Alex. It was an unexpected friendship. It was interesting how their bond grew, broke, and was mended back together as authentically as any friendship in real life.
Prom Queen Perfect is a beautiful, whirlwind of a story about learning to be not-so-perfect and showing the world who the girl behind the facade really is. I truly loved this so much and just want more of Alex, Adam, and Christy in my life.