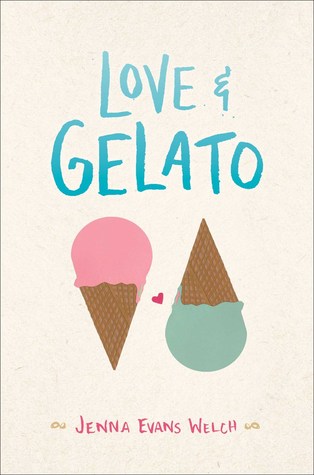 Author: Jenna Evans Welch
Publisher: Simon Pulse
Release date: May 3, 2015
Purchase from Amazon | Barnes & Noble | Book Depository
synopsis
Lina is spending the summer in Tuscany, but she isn't in the mood for Italy's famous sunshine and fairy-tale landscape. She's only there because it was her mother's dying wish that she get to know her father. But what kind of father isn't around for sixteen years? All Lina wants to do is get back home.
But then she is given a journal that her mom had kept when she lived in Italy. Suddenly Lina's uncovering a magical world of secret romances, art, and hidden bakeries. A world that inspires Lina, along with the ever-so-charming Ren, to follow in her mother's footsteps and unearth a secret that has been kept for far too long. It's a secret that will change everything she knew about her mother, her father—and even herself.
People come to Italy for love and gelato, someone tells her, but sometimes they discover much more.
MINIMAL TO NO SPOILERS LIE AHEAD. YOU'RE WELCOME.
Love & Gelato was an abundance of sweetness, adventure, heartbreak, and even more sweetness. From the beginning, I was thrown a huge curve ball filled with heartache and sympathy for Lina. Hadley, Lina's mother, is diagnosed with terminal cancer – her world is turned upside down when Hadley delves into stories of a man named Howard who lives in Italy. We quickly learn that Howard is Lina's father and it is Hadley's last wish for Lina to go to Italy and get to know the man who has been absent from her life for seventeen years. Lina's life changes in Italy by startling revelations, friendships, and a budding romance.
I've been loving all the contemporaries that have fallen into my hands. Love & Gelato is one of them. I loved Lina as a stubborn, cautious, and running enthusiast. Her mother's death is still raw and I liked how it was portrayed. It isn't easy to move on and I just…liked that Lina encompassed that grief well without hindering the will to live. In its own way…it is a beautiful thing. I also love how Lina is so cold towards Howard and steadily warms up to him as the story progresses. Her feelings towards her father are aligned to how Hadley "see's" him.
Now, you may be wondering why I put quotation marks around "see's." Well, things aren't always how they seem and Lina figures that out on her adventures through Italy.
The journal that her mother left Lina spurs her into action to see Italy as Hadley had experienced it when she was younger. It is through the journal that she sees the romance between Hadley and her father unfold. The journal also brings her new friend, Ren, on the adventure! I love love loved the incorporation of the journal in the novel. It was a story within a story and I enjoyed the glimpses of Hadley's life and how it affected Lina.
Opposite of Lina was Ren, the half-American/half Italian boy she meets and grows fond of. Ren is quirky, sweet, and adorable. He was an unexpected character in both friendship and romance. Speaking of unexpected characters – Howard was too. He didn't act like a repentant father, but it didn't make me hate him. In fact, I liked him a lot. He often tried to explain the situation, but Lina pushed him away until she was ready for the truth.
And boy does that truth hit you like a semi-truck.
Lastly, that ending. I cried. Literal tears of just happiness 🙂
All in all, Love & Gelato is a sweet contemporary novel with a bit of heartbreak entwined. It's a story that heavily relies on voice and if you love Lina, just like I did, you'll love her adventure in Italy!