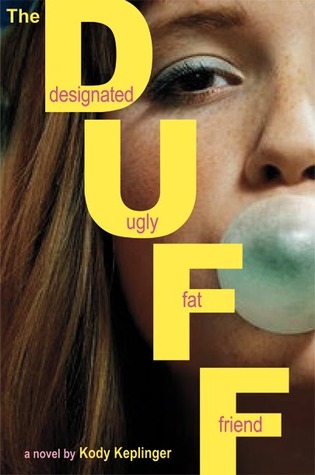 Author: Kody Keplinger
Publisher: Little Brown/Poppy
Release date: September 7, 2010
Purchase from Amazon | Barnes & Noble | Book Depository
SYNOPSIS
Seventeen-year-old Bianca Piper is cynical and loyal, and she doesn't think she's the prettiest of her friends by a long shot. She's also way too smart to fall for the charms of man-slut and slimy school hottie Wesley Rush. In fact, Bianca hates him. And when he nicknames her "the Duff," she throws her Coke in his face.
But things aren't so great at home right now, and Bianca is desperate for a distraction. She ends up kissing Wesley. Worse, she likes it. Eager for escape, Bianca throws herself into a closeted enemies-with-benefits relationship with him.
Until it all goes horribly awry. It turns out Wesley isn't such a bad listener, and his life is pretty screwed up, too. Suddenly Bianca realizes with absolute horror that she's falling for the guy she thought she hated more than anyone.
WHEN I First Read
I first read this in May of 2012. It was one of the first books I read when I joined Goodreads and became an avid reader.
WHAT I Remember
After being deemed the DUFF (Designated Ugly Fat Friend) by the school's hottest boy, Bianca can't stop thinking about the word and what it means. Then, she gets involved with that same boy as a form of distraction to mask the pain at home.
WHY I Wanted To Re-Read
The book turned movie adaptions was release earlier this month and I make it a habit to read or reread the book if I am going to see the movie. I'm actually going to see the movie tomorrow with some friends! I've heard the message of the book to movie is quite different, but overall it is still a good book to movie adaptation. We shall see!
HOW I Felt After Re-Reading
I really liked it overall. I can certainly see that my feelings have changed from when I was a seventeen year old girl. I still very much liked the message behind the story – that we are all DUFFS. We all feel like we are the least likeable and least attractive of our circle of friends. What that generally means is that we all have flaws and we perceive ourselves harsher than someone else would. As long as you surround yourself with positive, loving people your circle of the world will be okay.
WOULD I Re-Read Again
I don't think I will be picking this up again. I will always remember the meaning the book gave to my seventeen year old self and the lesson I've remembered now, but it's not something I would like to spend time reading again. It's good, but definitely not one of my all time favorites.